It's nearly Halloween and we have found 14 deluxe costume ideas for children!  High End Halloween Costumes highlight some of the best costume options you will find for purchase online.  Making it nice and simple for you.
We have chosen 14 deluxe costume ideas for children from the best Halloween online store – Halloween Costumes
14 Deluxe Costume Ideas For Children – Girls First!
Twinkle Witch Costume!
Your little girl will totally adore this Sparkle Witch Costume! She will be the most adored witch this Halloween.
Gorgeous witch costume with a sparkling black bodice with glittery green short puffy sleeves and overlay that flows over the skirt. Her bodice also has an orange inset with ribbon-crisscrossing accents.
The most she will love about this costume is the light-up optic pieces in her orange tulle skirt! Mom the battery pack is sewn into the middle of the dress. Included with this costume is a black witches hat with green glitter polka dots! You could also purchase a cute black witches broom when ordering this costume from Halloween Costumes online store
We have a few more selections of High End Halloween costumes for girls you are welcome to see.
Boys Dark Lord Halloween Costume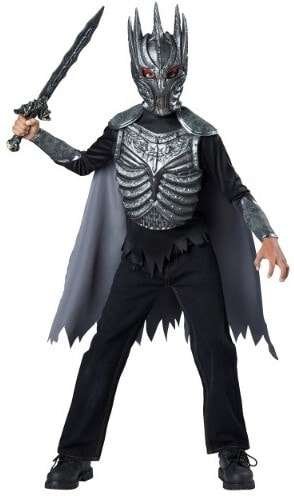 Your son is growing up now… he has mastered the dark side. Look out this Halloween wearing the Dark Lord Halloween Costume!
Who is ready to march with him into battle, obliterate his enemies, and help him capture the realm once and for all too!
With this devious look, & fantasy-inspired villain costume for boys, he will look the part. Brilliant costume with black long-sleeved tunic finished with a jagged hemline. For ease of wear, it fastens with Velcro back of the neck.
The gray cape also has a jagged hemline which is fastened to the tunic shoulders. The costume is finished off with sliver/gray sleeve shields over the writs and a detailed plastic chest armor piece. The molded plastic mask has an elastic security band.
Girl's Stempunk Costume
This girls Stempunk Costume comes with a stunning detailed dress that combines steampunk themes, such as gears and machinery, with some Victorian-era details.
Gorgeous white and gold striped bodice with short puffy sleeves. The blue Dress has attached black lace petticoat, white and orange ruffled overlay & leather belts with plastic buckle. Gold cogs are printed on the skirt.
The goggles which come with the costume are hard molded plastic with elastic straps, so they will not fall off.  Choker with buckle detail and the cute finger-less gloves with buckle details also are included. The costume is finished off with chains & button accessories attached to front of dress.  Long brown boots will look sensational with this costume and also love the Steampunk walking stick! All can be purchased at Halloween Costumes
Girls Crazy Color Clown Costume
Not all girls like anything scary or movie-related & this Crazy Color Clown Halloween costume is just ideal!
Stunning detailed costume with lots of bright colors of the rainbow all through it. A vibrant dress features a paint splatter design on the white bodice, with oversized purple, pink and green buttons. Love the attached rainbow suspenders!
The rainbow-colored tulle skirt is short, sassy and cute over the white splatter paint leggings which are also included with the costume!
Add a clown look with a multi-colored wig from Halloween Costumes Store and bright pink boots. Don't forget the clown make up mom!
Boy's Halo Blue Spartan Muscle Chest Costume
It's time to see the return of the Spartans. We need more heroes as powerful as the likes of John 117 & your son with this bright blue and black muscle Spartan Costume will no doubt want the role!
This officially licensed
Child Halo Blue Spartan Muscle Chest Costume is an all-in-one jumpsuit with a hard molded plastic Spartan helmet is included.
Padding is located in the chest and arms area to give the detailed muscled effect.
The costume is also finished with an all-over Armour print in fantastic detail!
Simply add your son's black boots and he is set to take on Halloween!
Boys Lothar Muscle Costume
Yet again another hero taking on the world this time in the Halloween forest. He must defeat every deadly boss that resides at the end of each dungeon!
Based on the armor worn by the hero in the Warcraft movie, this Officially licensed Child Lothar Muscle Costume has a look of epic proportions!
This highly detailed costume in colors of silver, black, blues and burnt old-world gold, comes complete with padding in the chest to give him a muscular look, along with printed chain mail and some wicked pauldrons to go with them!
Don't forget to equip your son with a set of weapons to keep him prepared for anything a dangerous Halloween encounter might throw at him!
Child Scary Bleeding Killer Clown Costume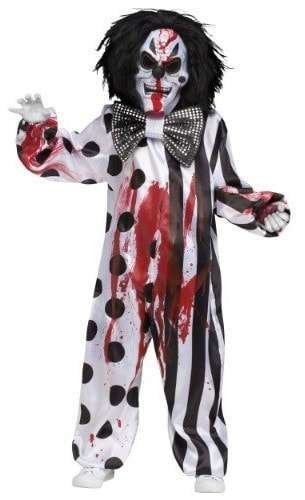 Your daughter may love the bright happy clown above but your son will LOVE the scary Bleeding Killer Clown Costume as an option!
Black and white Satin jumpsuit with half stripes the other large polka dots looks frightening covered in blood-stained paint! Brilliant effect!
Black bow tie covered with silver sequins fastens to the neckline with Velcro and the Full-face white mask with fake blood stains has attached wig of black synthetic hair.
Mask has a clear overlay so "fake blood" can flow without making a mess, looks super scary to see it in action and extremely effective! It all happens through a tube and pump inside the costume.
Graffiti Girl Child Costume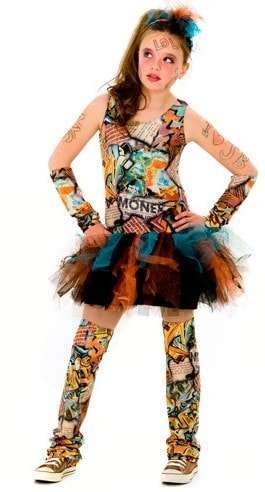 Love this awesome colored Girls Graffiti Halloween Costume!
With so many colors and mixes of different prints, this costume will certainly stand out!
The Graffiti-print dress comes with an attached tulle tutu skirt with mixed colors of black, brunt browns, orange and blue.
Leg Warmers, Arm Warmers and Coordinating Headband all with the same graffiti look and colors is included with the costume from Halloween Costumes. Add some cool graffiti drawings on your girls arms and face 🙂 love the whole look!
Green Lantern – Kilowog Muscle Child Costume
Boys of all ages will be hounding mom and dad for this Green Lantern Halloween Costumes. We have here on show the Kilowog Muscle child  costume!
A mix of light and dark green sets this costume out in a crowd!
A muscle chest-designed jumpsuit with the green Kilowog  mask. All you need to add is a pair of green flat shoes.
This is an officially licensed Green Lantern product.
Power Rangers Samurai – Red Ranger Muscle Child Costume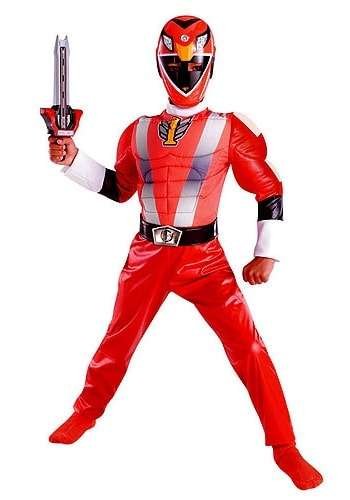 Power Ranges is another firm favorite for boys year in year out during Halloween. This is one very impressive Power Rangers Samurai – Red Ranger Muscle Child Costume.
Another comfortable Halloween costume of a red and black jumpsuit with a muscle torso and mask.  A gold belt is included but you will need to buy the sword which is quite cheap. Just add it on before heading to checkout at Halloween Costumes super store. This is an officially licensed Power Rangers Samurai product. You son may also like to see high end halloween costumes for boys we have listed.
Monster High – Clawdeen Wolf Child Costume
Watch out boys the girls are prowling the streets in this upmarket Wolf Halloween costume!
Your daughter will love this Monster High – Clawdeen Wolf Child Costume. Includes a cool, violet-colored faux-fur-trimmed jacket with attached tiger-striped shirt, purple skirt, faux-leather belt and matching choker.
Does not include wig, headband, knee highs or boots. However, mom, you can purchase them all at Halloween Costumes online store. Saving you a ton of time and money also!
This is an officially licensed Monster High product.
Girls Mad Hatter-Ess Halloween Costume
The Mad Hatter was a bit of an oddball, but who wasn't a little bit crazy in the world of Wonderland?
No wonder the Girls Mad Hatter-Hess Costume is so crazy with color and prints. It is a super adorable costume!
Sweet dress of purple with fine black stripes, sewn on vest panel in hot pink and black diamonds with green piping edge. The sleeve cuffs and skirt are both trimmed with lace & green ribbon. With extra layer on skirt of lime green with cute mad hatter print and polka dots!
Foam hot pink and black diamond print hat, has wire in brim edge, sewn-on fabric band. Simply add a pair of black shiny flats and short black laced top socks and your little girl is set to shine!
Boys Elite Civil War Iron Man Costume
Based on the latest addition to the Marvel Cinematic Universe, this Boys Iron Man Costume brings your son the detailed look from the movie.
This Officially licensed costume comes with a printed jumpsuit that recreates the iconic red and gold look, while adding poly foam muscle padding in the chest and shoulders to help your child look like one buff superhero. Of course, your child will need to protect his face from incoming attacks by Cap, so he'll need the included mask! The mask comes in two pieces and assembles quickly with Velcro pads on each side. We do feel this costume will sell out fast at Halloween Costumes so get in quick if your son loves it!
Boys Darth Vader Costume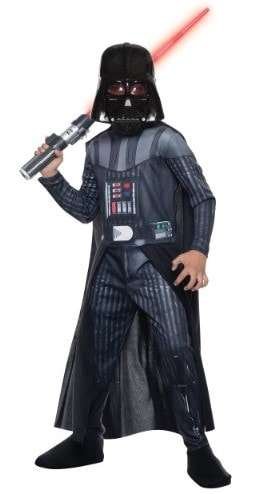 With Star Wars on the rise again in popularity we are sure many boys will be wanting a Darth Vader Costume this Halloween!
Straight from the Star Wars movies, it has all the deadly looks that Dark Lord could ever want.
Jumpsuit black and gray striped costume with lots of techy detail printed on bodice.
Attached are boot tops with elastic attachments and a plastic detachable mask with breathing vents. The cool Lightsaber is not included with the costume but can be purchased at Halloween Costumes store.
These are just a few of our deluxe costumes for children ideas.
Now before hunting for costumes at Halloween Costumes to save time, have your kids work out a few options first. Do they want a funny Halloween costume?  Did they have a favorite movie this year and wish to dress up as their favorite character etc.
Or do you have little angels during the year that at Halloween want to turn into devils with a scary Halloween costume! It's a bit like the old line "naughty and nice" fairy costumes even cover that theme!
The best part about searching for delux costumes for children is you do it together! In our busy lives sometimes quality bonding time for us as parents with our kids, tends to be less than we would like. So grab the kids, maybe some pre-Halloween snacks and enjoy going through our website for ideas or head straight over to Halloween Costumes to browse around and buy.