So, the big event is close and you still have to decide on a coordinated look for Halloween couple ideas for the party. Invite in hand but are you going back and forth on which theme to grab? Perhaps your partner has one theme in mind and you have another but nothing is really screaming out at you both!
There is a much easier way to work out which costumes will look great together and in "Theme". Halloween Costumes super store (click here) have a super cool setup. They have matched up Halloween couple ideas in all sorts of themes. You simply slide through what you like, click a couple in the costume theme that takes you eye and up comes everything you need to complete your look! Now that's shopping fast and smart. Plus they have incredible high end Halloween costumes for couples, which ensures you are going to look the best!!
Whether you'd like to be superheroes, villains, your favorite movie characters, or maybe even a historical throwback, we found a massive range, no doubt one of the biggest online to purchase at Halloween Costumes Store.  With excellent customer support and shipping deals you simply can't go wrong. Now if you need a few ideas to get you started, before heading over to shop, we decided to list some of our favorite themes for you.
Halloween Couple Ideas – Our Tip Pick Themes
Starting off this time with a couple's costume out of the animal theme. We just love the detailed work on both these
 costumes.
Sea Siren and King Neptune couples costumes are standouts for color. Look at the detail in the image. Really nice, but I am a sparkle kinda gal!
Sea Siren is a mermaid costume, who doesn't love mermaids (although in the Captain Jack movie they where not so gorgeous in the end lol) . This also happens to be an Exclusive costume from Halloween Costumes store (made and designed by their own team) and does come in a plus size also.  For you girls that want to kick some serious butt in your Halloween sea theme or pool party this is one is a show stopper! Plus being exclusive you wont find a lot of competition wearing the same outfit!
Stunning iridescent sequin finish, with tulle accents and gold foam trim. All accessories are listed with the costume. To complete it perfectly get your partner to dress up as King Neptune.  This King Neptune costume also has a lot of detail work. Faux suede , fur and detail gems set it of nicely as does the gold ropes and ribbon work on the chest. All you see in the image is included except for the wig, trident and sandals, however you can add those pieces at checkout. Personally well worth getting the extras to complete any costume, just helps them stand out and look complete.
From Animal Theme to the Classics. WOW this was a harder pick as there are so many classic theme choices. Voodo,
 Skeleton, Witches and Wizards, Pirates (although to us that's Disney) Angels, Devils, Nurses etc the list is almost endless. However we are going to stick with true classic and our fav Vampire costumes! There is actually a huge range of high end Vampire costume styles at Halloween Costumes store, but this is our top pick!
For a little bit of Sexy and WOW factor, we couldn't go passed this Elegant Victorian Vampire Costume for us girls. The detail is outstanding! Stunning layers of lush looking burgundy fabric and blacks with lace accents. The metallic satin bodice and skirt are trimmed with pleated black satin trim and lace. The neckline has a sharp, unique cut that is offset with the dramatic upturned collar and lace cameo choker. Add in fishnet stockings, high heels, makeup and a wig of course and paint those nails a nice deep rich burgundy color. Hands down a show stopper!
Now we need your man to really set the pace with you and we just love this particular Men's Count Vamp Costume! This particular design is a true Antique look. The costume has a mix of velvet, shantung, taffeta and stain. Deep colors of burgundy and blacks. Of course includes the traditional features, such as the cape, gloves and vest. It's rare that a costume includes detailed accessories like a bat-shaped brooch and a chain clasp at the collar, but this one does! We believe this particular design matches perfectly with the Victorian Vampire costume for women. Also, all Vampire costumes come in loads of different sizes including plus size for both women and men, which is super awesome!
For the Disney Theme we have gone with Alice in Wonderland costumes because we just felt these in particular
offered a lot of detail and we LOVE costumes with tons of detail! They just stand out the most. For the ladies and when you are talking high end Halloween costumes for couples, this particular one has been popular in sales. Not over saturated but still women with particular tastes for all things fine are loving this Disney Costume – Delux Queen of Hearts. Available in Plus Size also this is a truly beautiful dress. The poly/spandex blend dress has a red, crushed velvet skirt with gathered black satin overlay around the waistline. The floor-length gown is ready for any royal event with its puffed shoulders and elegant gold trim. The dress is detailed with a checkered, striped, and heart pattern that makes it a uniquely stylish addition to your Halloween wardrobe. It also comes with a full-length white petticoat with an elastic waist and a sequin heart crown. Vaaaaa Voommm!
And to complete Halloween couple ideas in the Disney theme, for your man we have gone with the Exclusive costume design of Mad Hatter, just for something different. Remember exclusive means it was designed and hand made by the team at Halloween Costumes online outlet. The Mad Hatter men's costume comes with everything you need for a truly authentic look. This particular design comes a burgundy jacket with faux fur trimmed jacket in burgundy with really nice lace trimmed sleeve cuffs. The pink button-down shirt and attached pink scarf add color to the costume, while the black vest and bow tie give it a touch of class. Don't forget to get the Mad Hatter's Hat and fiery red wig for a complete look this Halloween! Encourage your guy to do the face makeup style as shown in the image, will look amazing!
Witches and Wizards are popular choice costumes for couples year after year. This year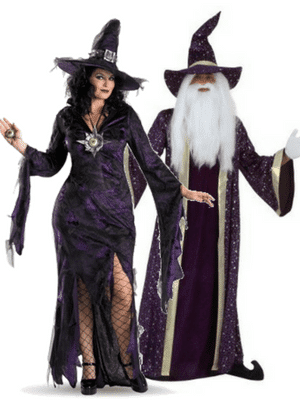 though, we found two stunning costumes that will have you creating magic where ever you go this Hallows Eve! Both are plus size costumes however you can get regular sizing also.
Plus Size Mens Wizard costume is stunning. Love the purple color (and we picked a purple witch costume to match in perfectly) With this costume it pretty much comes complete, long purple star spangled robe, very luxe looking in velour fabric with purple insert at front. So it's an all in one costume that zips up at the back. You guy could add a wig, whimsical shoes and of course grab a wand at checkout.
Girls this Plus Size Sorceress Costume you will look one very hot witch ready to cast magical or naughty spells over Halloween. Although we do advise forget any love potions or spells they rarely work. Again another stunning costume made out of crushed purple velvet with a black knit mesh fabric that flows over the velvet. Love the v-neck, nice and plunging, you got it flaunt as they say! The dress has jagged edge finishes as do the sleeves. The cone-shaped witches hat has a wire-edged brim with silver molded medallion on a sliver twill cord. The hand accessory you see in the image is also included. All you need to purchase as an extra would be pair of shoes, go chunky black looks great, black witches wig if you prefer and fishnet stockings. Purple make up will give a finished look.
The above high end Halloween costumes for couples are just a small amount of what we loved!
If we showed them all, this page would turn into an epic novel. Check out the full range of couples costumes at Halloween Costumes store.. click here and have fun picking out your theme together. We have also written a quick tutorial HERE on how brilliant Halloween Costumes Store have it setup so you can flick through Halloween couple ideas and choose costumes quickly and easily. They really do an outstanding job on their website for ultimate customer service online. Not many sites online have been setup as well as these guys!!