Are you a new parent heading to Halloween this year with your gorgeous new baby? Would you prefer a new costume that screams high end? We have found the ideal high end Halloween costumes for babies we know you will fall in love with!
Nothing is as SUPER cute than seeing your new little angel dressed in an adorable Halloween Costume. Most baby costumes are cute rather than gory or scary as really no one wants to see a baby dressed like that now do they?!?
The following baby Halloween costumes we found at Halloween costumes super store CLICK HERE Save time and energy as life is always busy with a new baby and purchase online with fantastic shipping deals!
Below you will find our favorites and top picks for babies and Halloween!
Infant Lil Mouse Costume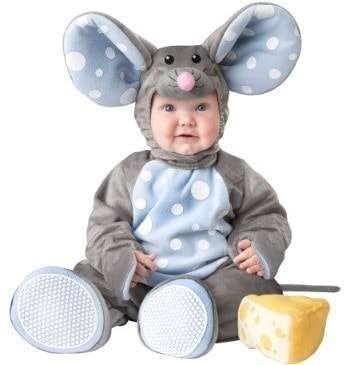 SO CUTE! A little mouse you will happily have in the house. Your baby will look oh-so-sweet in this Infant Lil Mouse Costume. Perfect for cold weather as its so cozy and cuddly. Even comes with a piece of cheese made out of foam so watch the Halloween Cat!
The baby jumpsuit costume is fully lined and made of 100% polyester velour of soft grey coloring. The zip up and Velcro closures means you'll be able to get your little one in and out of this jumpsuit with ease. This costume also has sewn on hand covers and the tail attaches with a Velcro dot. The simple headpiece with over-sized ears, mouse eyes and pink nose, with inner soft blue color with large white polka dots in the ears, coordinates with non slip booties for a head to toe cute critter style. Outfit your boy or girl newborn with this adorable look, and get ready to make your little one even cuter! Purchase from Halloween Costumes.
Toddler Deluxe Tigger Costume
Who loves Tigger Tigers from Winnie the Pooh, WE DO!! Now you have the opportunity to dress up your gorgeous baby in this super cute Deluxe Baby Tigger Costume for Halloween! Your baby can either go it alone as Tigger from Winnie the Pooh or why not dress up the whole family as a fabulous group Halloween costume idea 🙂
You could even get everyone a Winnie the Pooh treat bag and load up on all the candy your family can get this Halloween, from Halloween Costumes when your purchase your Winni the Pooh costumes.
Baby Tigger costume is made from microfiber faux fur in a bright orange color with black tiger stripe accents, yellow belly insert finished with a soft character tiger face on top of the hood. Is a complete hooded jumpsuit with black zipper. A cute springy tail does fasten to the jumpsuit with Velcro.
Baby Dinky Dragonfly Costume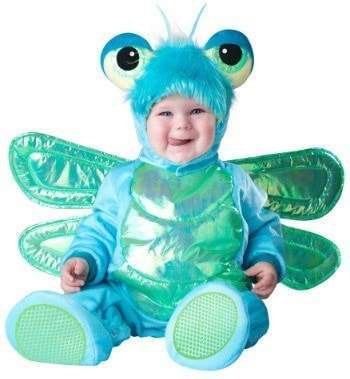 "Oh, sweet Dragonfly, just fly and magic will always be at your wingtips." Now your little one can be a sweet aqua green dragonfly and a perfect high end halloween costume for babies should your family be dressing up as fairies or angels.
One of the highlights of this Dinky Dragonfly Costume for us, is the SUPER adorable supersized eyes on the soft blue fringed faux fur headset of this jumpsuit costume. You simply cannot miss seeing them! Stare at them and they WILL stare back!
As we said above the jumpsuit is a really nice mix of aqua and green colors with satin material finish on the wings and tummy insert. Foot covers are also included with no slip souls.
Infant Lil Pink Monster Costume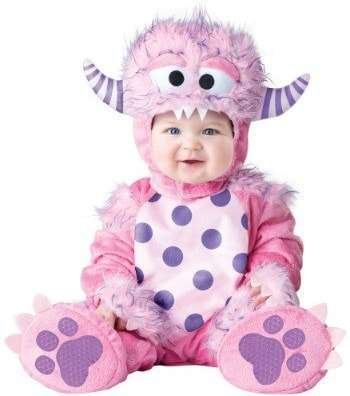 With this adorable costume, you'll finally have a monster to call your very own. We are fairly sure like us you will love this pink and purple Monster Costume as it's a super cute look!  Plus it will be much easier than having a real little monster running around…right!
A soft pink jumpsuit costume that is zippered up at the back. Love the purple and pink fur accents, purple polka dot insert of this costume.
The foot covers also have a gorgeous purple monster print on the souls. Just look at that head cover! Purple stripped horns at the side, cute eyes with pink eyelids on front and even the white clothe trim teeth look adorable! The headpiece has Velcro attachment under the chin.
Infant Playful Pony Costume
Giddy Up Horses don't be late! Going from the farm or having a western family themed Halloween then we have the prefect high end Halloween costume for babies in a SUPER Playful Pony Costume!
This pony costume is a fantastic costume with lots of real horsey detail! Gorgeous brown 100% polyester jumpsuit with attached (yes we know a horse has this!) red and white bandanna. It will help with drink spills mom 😉
Look at those foot covers.. whops we mean hooves of course, cute gold and brown horse shoe print. Who can deny that adorable stuffed horse face headpiece! We have the mane, horse ears, white faced with brown nostrils. Even an attached red bridle is included! your little one can look just like a horse in this great costume.
Cuddly Clown Costume
From wild cute horses to bright colored clowns, there really is a high end Halloween costume for babies for everyone's taste! We couldn't go passed this new Baby Clown Costume full of bright happy colors!
This costume really does spell out.. OVERDOSE of cuteness! Another great costume for cold climates as its warm and cozy but great for chilly Halloween eve nights as well.
The costume is made from velour, satin, rib nit and faux fur fabrics in loads of bright color mixes.
Also includes a satin lined velour hat that has a satin ruffle trim and fake fur bright red hair. Cute booties have anti-skid soles with tiny yellow print polka dots.
Abominable Snowbaby Infant Costume
The cute monster costumes just keep coming this Halloween. Look at this little ones face.. pretty sure he has his "monster" face on and happening as can your little baby in this Abominable Snow baby Infant Costume! He'll definitely keep the reindeer from straying–not to mention elves who want to become dentists. It might be a while before he can put a star on top of a Christmas tree, though. Speaking of Christmas for some laughter and fun this costume can be used again then!
100% polyester faux fur, fleece, satin, felt & rib knit fabric costume of gorgeous blue colors. Fully-lined jumpsuit with white fur and pal blue fleece belly insert. The blue felt claws look amazing at the wrists and tops of the fur booties that also have anti-skid soles. The Satin-lined fur hood has a soft-sculpted felt face on top and fastens with Velcro under chin.
Infant Giggly Goldfish Costume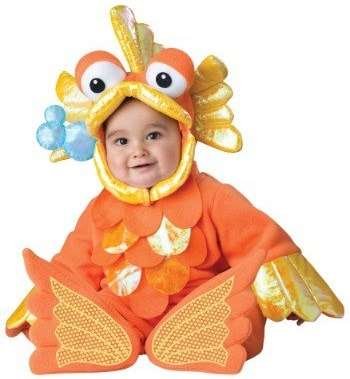 What sound does a goldfish make? Hmm, that's a good question actually! We'd like to think that goldfish make a noise that sounds like 'blub blub blub.' Dress your golden baby boy or girl as a tiny bubble-eyed goldfish. This orange and yellow Baby Giggly Goldfish Costume will turn your little cutie into quite the catch!
100% polyester fleece outer shell and satin lining jumpsuit does fasten at the center back. Super adorable (yes we say that word a lot but how can you not with these baby costumes on show!) goldfish hood with HUGE goldfish eyes is a soft-sculpted face complete with yellow satin fish lips, fins and fastens under the chin with Velcro.
Love the fish-finned booties, really set the tone of this costume perfectly! They are anti-skid as well.
Tiny Tentacles Purple Octopus Costume
Our last top pick for high end Halloween costumes for babies is the Purple Octopus Costume. Love the detail on the purple fabric of darker purple polka dots. The best part about having a baby octopus is that there's even more arms to be hugged with!
The costume also has attached tentacles on each side and the matching headpiece also has large googly eyes on top. Headpiece is filled with foam and attaches under the chin. Matching purple Octopus booties are included as well.
If you would like to discover even more high end Halloween costumes for babies…head over to the online super store Halloween Costumes.
While high end baby costumes cost more, they are certainly worth it in style and WOW factor! After all no one wants a run of the mill Halloween costume as Halloween is only once a year so make it POP and stand out in the crowd!