Now you have your Halloween costumes all sorted what about the decorations? At a guess, this may for some people be the first item on the list, for others high end Halloween decorations are collected throughout the year. Then of course there are those of us who do prefer to wait until we have our theme worked out (for costumes that is) and then purchase a few decorations to match in, especially if we are doing a theme party for Hallows eve.
There are literally thousands of ideas you can do for decorating your home inside and outside. So to give you some ideas we are showcasing some of our fav ideas from the super store Halloween Costumes. Yes, they have everything you would need to create a stunning, jaw-dropping decorative piece for everyone to enjoy.
You can even buy these complete themes at Halloween Costumes, saving you time searching for every piece in the photos.
High End Halloween Decorations – Outside Ideas
Haunted Graveyard Outdoor Scene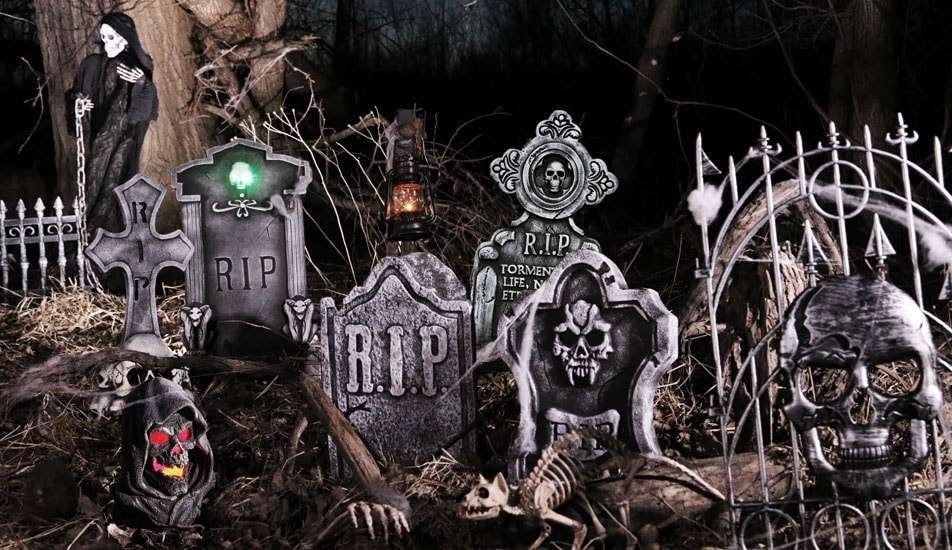 The haunted scene will turn your pretty green lawn and gorgeous flowers into an almost witch circa of 500 years ago. This super cool scene at night will give off that "scary" look. Not only will you have tombstones marking the final resting place of the dearly departed, but you'll also actually have a skeleton popping out of the ground, along with his pet cat! You never know, those two just might be the next big internet lolcats craze.
SCENE INCLUDES
3-Piece Buried Alive Skeleton Kit
Skeleton Cat
Crooked Stone Tombstone Set
Light up Old Lantern
2 Pc. Cemetery Fence
Spider Web Decoration
3 Foot Moss Garland
36 inch Tombstone
Mossy Celtic Cross Tombstone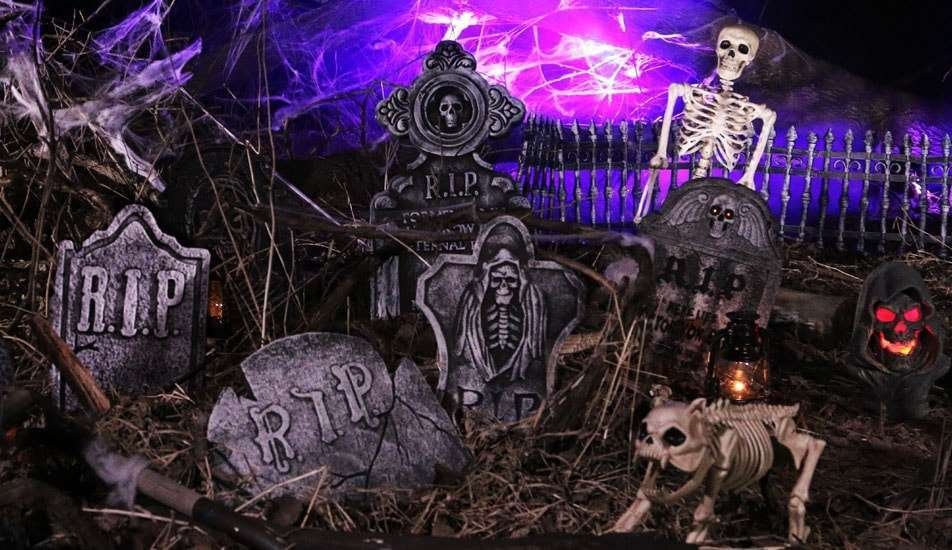 Love this one may be the most but that's because we love the whole purple look to it. Actually, an extra you could do is hire a fog machine (or you can purchase one upon checkout, they show up), just for the night and have fog wafting through this scene. Would look SUPER cool especially with the purple eerie light in the background. Also if you happen to have a big tree, see if you can build the scene in front of that and have the LED light showing up into that tree as well, that would be spooky especially if the tree is near a street lamp.
This complete scene has cracked tombstones, a skeleton that rises from the dead, with a dog that sits on his feet, however not cute, his dog has nasty sharp baring teeth! Mr. Reapers his bust glows red like the fires of hell.
SCENE INCLUDES
Lifesize Poseable Skeleton
Bones the Hungry Hound Skeleton Dog
RIP Tombstone
36 inch Two-Piece Eternal Rest Tombstone
Three Piece Tombstone Kit
Crooked Stone Tombstone Set
Light up Old Lantern
Light Up Reaper Bust
Spider Web Decoration
2 Pc. Cemetery Fence
LED Black Outdoor Spot Light
The Zombie Take Over has Arrived!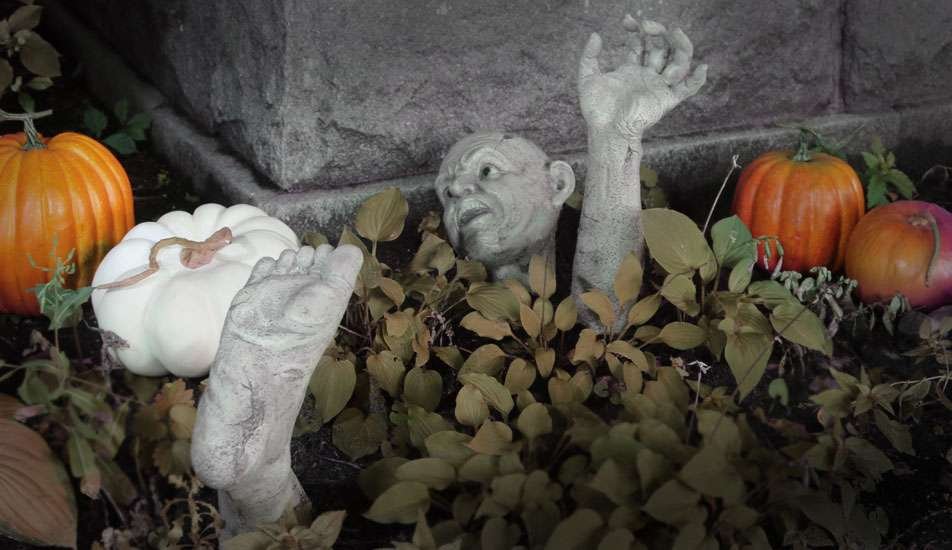 Are you having a Zombie themed party and just want a super easy entrance to your home? This is a terrific scene perfect to cover your front lawn! Grab a few of the complete scene sets to achieve the coverage you are looking for and to be honest a full lawn coverage would look epic!
If you have the ability to get your hands on old leaves, even ask friends, scatter them around along with old branches. Another addition at night is, you could also grab some LED lights to throw a hint of Full Moon across different sections of the lawn where you have placed the zombies. If you are handy with bits and pieces around the house you could also build a Zombie Pit – if you feel like tearing up some yard of course 🙂
SCENE INCLUDES
Head, Foot, and Hand Outdoor Prop
12″ Weighted Pumpkin
9″ Distorted Pumpkin
6″ Weighted Pumpkin
Now in the event, you live in an apartment block or unit and you only have a small area to decorate whether it's your front door or perhaps a balcony, the below two images will give you some great ideas. All sets of course can be purchased complete HERE at Halloween Costumes.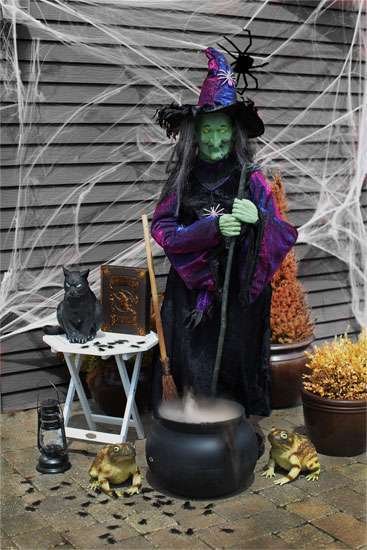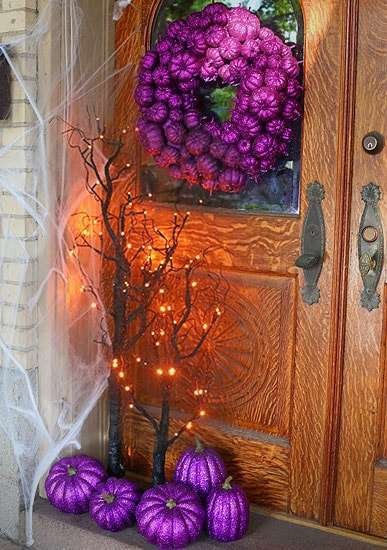 High End Halloween Decorations – Inside Ideas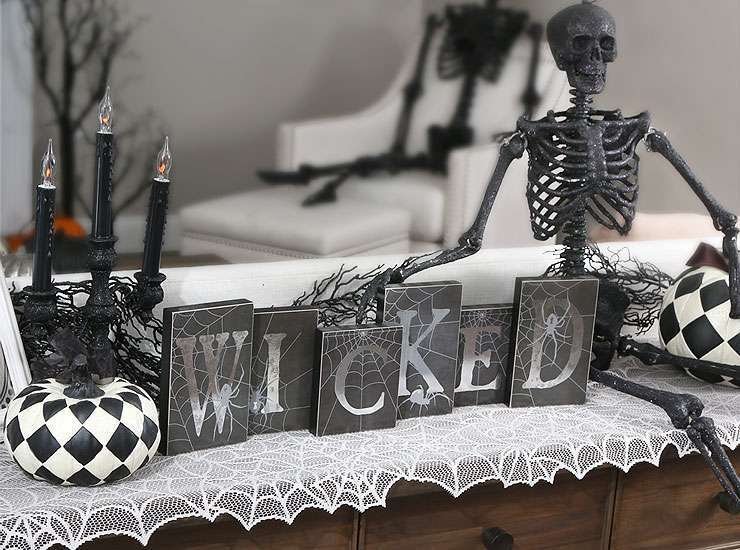 Silver and black always look a high-end color combination and this particular scene uses the colors perfectly. In the foreground, we see a bunch of pleasant and beautiful things (albeit a bit macabre). Now, those pumpkins are like no pumpkins we've ever seen! These are stylish, and if you're not gravity impaired you could use them as a chessboard.
The wicked signs are rustic and that glitter skeleton looks as happy as a skeleton can look. In the background, you can see another skeleton just lounging on what looks like a cloud (but might be a lounge chair, to be honest).
This is an ideal scene if you have a small room to decorate out or perhaps a showpiece scene in the area you will be holding your party, such as the corner of a large room.
SCENE INCLUDES
4.5″ Tall Black and Gray Wicked Bricks
9″ Resin Black and White Checkered Pumpkin
Flicker Bulb Black Gothic Metal Candelabra
Ghostly Grey Spider Web Mantle Runner
35.5″ Black Glitter Skeleton
Three 59″ Glitter Hanging Twig Spray Black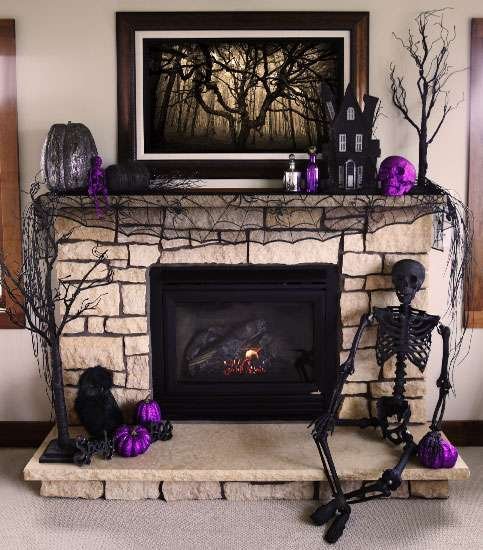 This Purple Glitter Mantle Scene is almost calm and peaceful, just a stunning mix of high end Halloween decorations! It has fantastic coordination of color and old-school spookiness: a dark skeleton, cobwebs, owl, along with purple pumpkins and a glittery skull. Bring the celebration indoors without compromising your sense of style with this classic scene.
Ideally, this would look brilliant in a home with an open fireplace or you could just alter it a touch and put it around a large sideboard. While all these scenes look amazing how they are set up, don't forget to use your own imagination. Look at the image then stand back in your home and see if you can visualize where it would be a standout or how you could alter it slightly to add in as a feature somewhere.
SCENE INCLUDES
9″ Purple Mercury Glass Perfume Bottle
9″ Mercury Glass Perfume Bottle
22″ Haunted House w/Music and Lights
Wall Piece Set of 3
13 Inch Silver Glittered Pumpkin
69 Inch Black Weeping Willow Spray
14 Inch Black Owl
Midnight Lace Mantle Scarf w/ Lights
6.5 inch Black Glittered Pumpkin
6.5″ Round Purple Glitter Pumpkin
Glitter, feathers, and wreaths – these aren't things that necessarily come to mind when you first think of Halloween.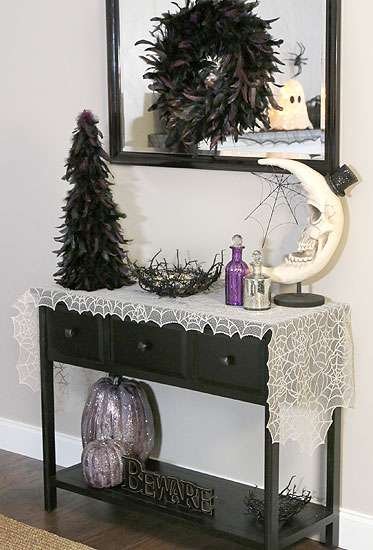 But with the right combination of items, you have a look that's worthy of the haunting and mysterious holiday that is Halloween!
Actually, we wouldn't mind having most of this display all year round it's that good! It's perfect for Halloween, of course, but just look at that feather tree! Gorgeous. And the matching wreath? Double gorgeous. We are also very fond of that skeleton moon… Even if you decide to take it down after the Halloween season, we know you'll look forward to putting it up year after year, it's just that nice!
Again it's all about using your own imagination but this scene would look out of sight in your entrance hallway.
SCENE INCLUDES
23″ Feather Wreath Black and Purple
24″ Feather Cone Topiary Black and Purple
6″ purple glittered pumpkin
13″ Purple Glittered Pumpkin
13" Web Bird nest
9" Web Bird nest
Ghostly Grey Spider Web Mantle Runner
9″ Purple Mercury Glass Perfume Bottle
9″ Mercury Glass Perfume Bottle
Black Beware Cutout
Haunted Skeleton Moon
We hope you gained some great ideas to decorate outside and inside of your home. If you really want to go all out and push the limits add in some HALLOWEEN ANIMATRONICS as most if not all come with noise, which only adds to the effects you are trying to create! Full range of animatronics of course is at Halloween Costumes.